The topics NFT gallery and IQOS 3 DUO WE limited edition were covered before, but we feel "obliged" to share a few more details about the event itself and the IQOS 3 DUO limited edition launch.
We can proudly say that through this event, the Macedonian audience got directly introduced to digital NFT art, which conquered the world in a very short period.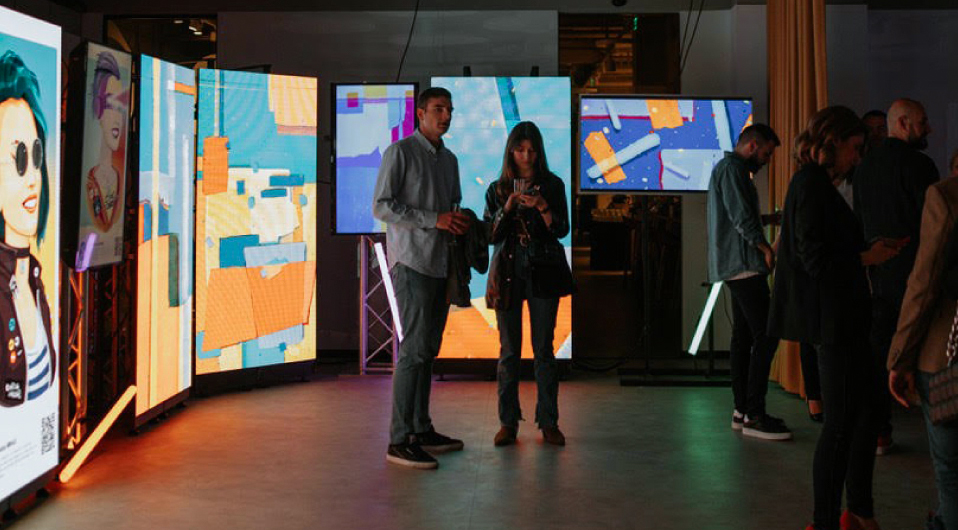 Philip Morris International as an innovative company, strives every day to follow the current digital achievements and ways to implement and present its products.
For that purpose, we organized the first NFT Gallery in Macedonia, through which we directly supported the Macedonian NFT artists. On 06.05 was the official presentation of the limited edition, and on 07.05 all interested users got the opportunity to visit this gallery, at the OPEN DAY GALLERY in the new FMTKP space in Skopje.
The gallery consisted of works by renowned Macedonian artists Darko R, Iva Stankovska, Female Punx and Sara Stanoeska, who through the presentation of various artistic directions and styles such as minimalism, futurism, pop art and anime brought NFT art closer to the audience.
After the visitors viewed all artist designs, there was an address by our moderator - Gorast Cvetkovski, who invited the artists to share with the audience their inspiration and desire to create the digital NFT works.
After the presentation of the idea and concept behind the novelty digital art, the participants were greeted by Jana Durneva - Marketing and Digital Solutions Manager from FMTKP, who revealed the new limited edition of The We Edition IQOS 3 DUO – an edition inspired by the beauty of diversity in the IQOS community, sprinkled with a dazzling combination of colors where each color symbolizes individuality and authenticity.
Besides the device, part of this limited edition was a collection of color caps for the holder in four different colors and a door for the charger that have their own story.
Yellow which reminds of the pleasant feeling of acceptance. Blue calls for unity. Violet celebrates uniqueness. Orange signifies progress.
This device sold out in record time.
The event visitors, in addition to having the opportunity to buy the new device and thus add a little more color to their everyday life, also had the chance to choose from the 5 designs of the artist Darko R, inspired by We, created especially for this event, which they then received as a gift, as a digital NFT design. Of course, we did not stop there, and more gifts followed 😊
The girls from IQOS were also present – our beautiful hostesses, who as part of their outfit wore specially designed accessories created by MARKOV - HOUSE OF STYLE.
Finally – the impressions, feedback and photos shared by the visitors of the two-day event are an incentive to organize many more projects and events in the digital and physical world, and most of all, in our IQOS world.
Your IQOS!